From the anime series
Gordian Warrior
(闘士ゴーディアン?) aired between 1979 to 1981 in Japan, CM's Corp brings us this gokin of Gordian.
Similar to Bandai Baikanfu, this gokin is like a Russian nested doll. Each of the 3 forms are well articulated and comes with its own accessories. Garbin (the biggest robot) has a few gimmicks, ranging from hidden missiles in his shin to a shield. Delinger (the middle red/white robot) and Protteser comes with 2 weapons each.
The robot has a really retro feel about it even to the extent of joint and combining mechanisms. Overall I still prefer the sleeker look of Baikanfu and the huge price tag that comes with Gordian (a whopping $350) puts me off this gokin.
I'll pass on this.
Specs
Name :Brave Gokin 30 - Gordian Warrior

Manufacturer : CM`s Corporation

Material : PVC , ABS , POM , Diecast

Series : Brave Gokin

Release Date : Nov 09
RRP : 23,600 Yen (~SGD$356)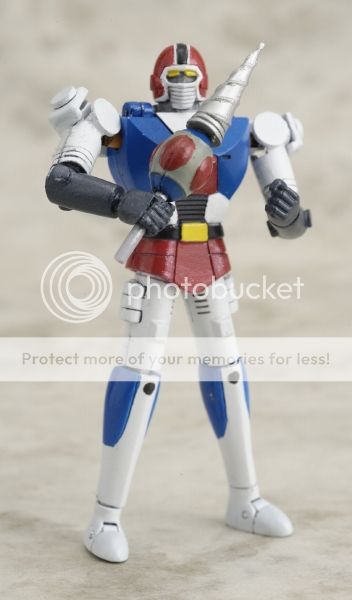 Cheers:
http://www.1999.co.jp/eng/10095680
Cheers
Surge