For those of you who can't get their hands on a figma Lily Saber. FEAR NOT!!
Good Smile Company will be releasing a 1/7 PVC rendition of the Lily Saber.
This figure I must say is the perfect balance of grace and power. The pose and facial expression of Saber is spot-on. The details of the figure are fantastic, from the shiny armor to the details on caliburn.
I really got nothing bad to say about this figure. If you only have space for ONE PVC on your shelf, this would be it.
Folks outside of Singapore can pre-order from
Play-Asia HERE
. They ship internationally.
Specs
Product name Saber Lily ~Distant Avalon~ (せいばー・りりぃ すべてとおきりそうきょう アヴァロン)
Series Fate/unlimited codes
Price 9,800Yen
Release Date 2009/08
Specifications :1/7 scale , 23Cm (H)
Sculptor Takayuki Kawahara
Here are some pics of the colored Sculpt... YUMMY!!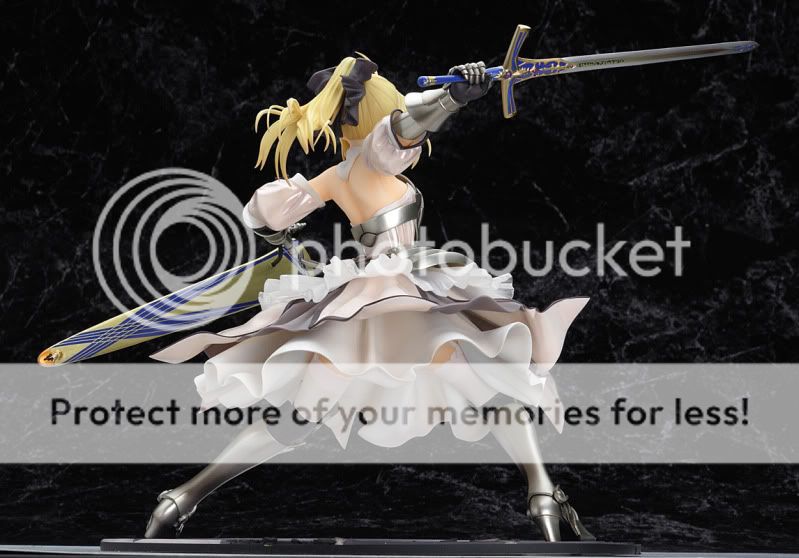 Credits:
http://www.goodsmile.info/detail/eng/2304/Saber+Lily+~Distant+Avalon~.html
http://www.sgcollect.com/forum/index.php?showtopic=60062&st=45&start=45
Cheers
Surge