Fresh from GSC webpage is the announcement of the next 3 Super Deformed (SD) mecha to be introduced into the ESGokin line from ArtStorm (parent company of Fewture). The next to be SDed would be the Getter-machines from the
Getter Robo
series.
I must admit I am abit disspointed thought as I thought they were going to introduce Baikanfu or Dancougar next after Goshogun(ES-01) and Jeeg(ES-02) but Getters are not bad too..i guess.
All 3 getter-machines are scheduled to be released Nov 2009. Good news is that these are priced noticably lower then the first 2 releases with the most expensive (Getter-1) being priced at a modest 4800Yen(~SGD$71). At a good SGD$30 less then the Goshogun release, I am sure this will entice more pple to pickup this line.
*Update:12 June 09:Pre-Orders have opened at CSC shops for these 3 Getters. PO price are all around $69 for Getter-1 and $50 for Getter 2/3
If you are outside of Singapore, you can get yours from HobbySearch HERE
Oh Well, Lets run through them in numerical order :)
Getter-1.. easily my favorite among the 3 (whether its SD or not). Getter-1 transitions into super-deformed shape very well. Getter 1 retains just the right among of "coolness" while balancing the cuteness of being super deformed. Getter-1 includes the Getter Tomahawk , the Getter Machine Gun as well as various hand parts to enrich the posing possibilities of the figure
This ones a winner for me and just maybe the only one I'm going to get...
Specs
Product name ES Alloy 03: Getter-1 (いーえすごうきん 03 げったーわん)
Series Getter Robo
Price 4,800Yen (~SGD$70)
Release Date 2009/11
Specifications Diecast & ABS Complete painted poseable figure - not to scale - stand included - approximately 10.5cm(H)
Planning/Production Action Toys
Sold By Art Storm
Distributor Good Smile Company
Next I'll do Getter-2 and Getter-3 together. Why? cos I'm lazy and don't really like them :P Nuff said.
I never did like the mecha designs for Getter 2 & 3 even when they were not SDed. Now their super deformed.. they just look dorky. Getter 2 looks like a pine cone on silts and Getter 3 is like a reject from Wall-E. Accessories wise are also weak for 2 &3 with 2 coming with parts to recreate his attacks and 3 having arms are loaded with multiple joints (OH~JOy... sarcastic)
I guess true fans or completist would get all 3.. but Im skipping 2&3..
(Wheres my Baikanfu!!??)
Specs
Product name ES Alloy 04: Getter-2 (いーえすごうきん 04 げったーつー)
Series Getter Robo
Price 3,800Yen(~SGD$56)
Release Date 2009/11
Specifications Diecast & ABS Complete painted poseable figure - not to scale - stand included - 11cm(H)
Planning/Production Action Toys
Sold By Art Storm
Distributor Good Smile Company
Specs
Product name ES Alloy 05: Getter-3 (いーえすごうきん 05 げったーすりー)
Series Getter Robo
Price 3,800Yen(~SGD$56)
Release Date 2009/11
Specifications Diecast & ABS Complete painted poseable figure - not to scale - stand included - 11cm(H)
Planning/Production Action Toys
Sold By Art Storm
Distributor Good Smile Company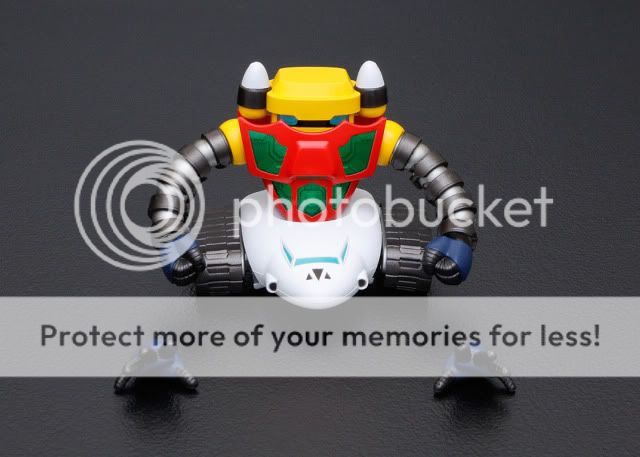 Credits:
http://www.goodsmile.info/top/eng
Cheers
Surge